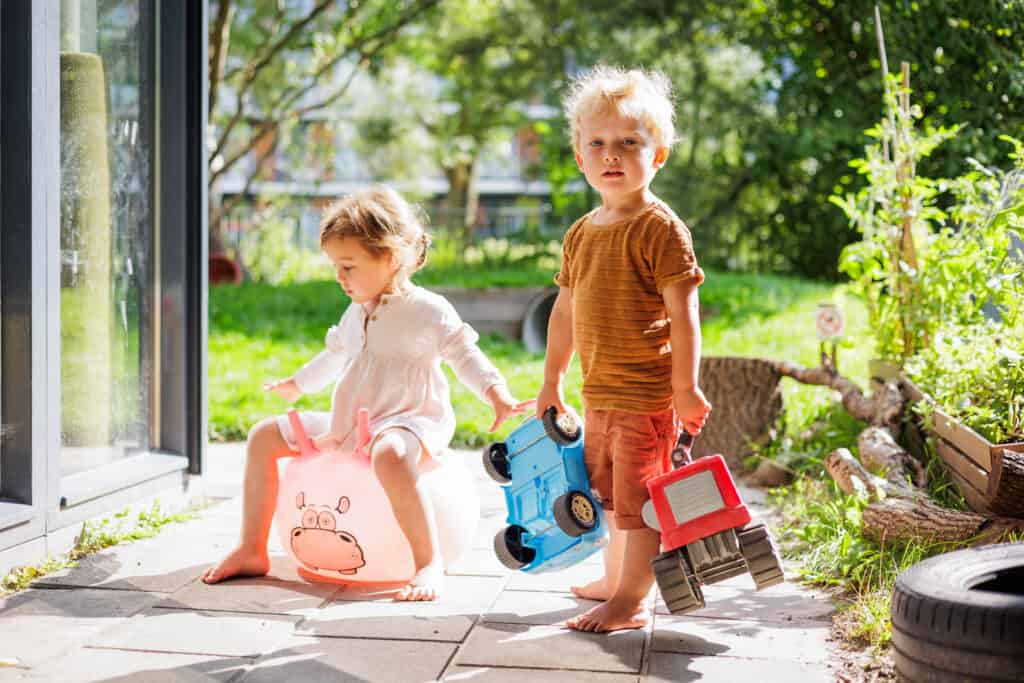 Preschool Care
Ages 2 to 4 year
Is your child's proper preparation for primary school a key aspect to you? And that your child gets to know peers from different backgrounds and enjoys social development? Then our preschool care will be right for you.
We use various programmes that encourage preschoolers in all kinds of developmental areas. We link up with the goals of primary education through play and in a natural way. Toddlers and preschoolers are tagged along with in their development: each child can work and learn at the level that suits him or her. This way, your child gets to grips with its environment, has fun with peers and learns to treat others with respect.
Some of our preschool locations are at a Children's Campus. In a children's campus, education and care are combined: day-care, preschool and after-school care education. Playful learning and development between 0 and 12 years in a continuous learning pathway.
Different types of childcare places at preschool
Our preschool has different types of care places: regular preschool or preschool-VE. The place that is right for you and your child depends on a number of factors. For example, whether you receive a childcare allowance or are entitled to a subsidy from the city. Some children aged 2.5 to 4 receive a pre-school education referral (VE-indicatie) from the childcare centre. This is a special programme for children requiring additional needs. Contact our Child Planning Department to find out what options are available.
Going to Preschool for the first time
Going to preschool for the first time is quite an exciting step for your preschooler. You will all have to get used to it. At KinderRijk, we are pleased to help you make this transition as smoothly as possible.
Before starting care at KinderRijk, you will have an introductory conversation at the location. You will meet an educational staff member and discuss how things work at the location, the daily schedule, all kinds of practical matters and, of course, your preschooler's particularities. This way, you know exactly what to expect from the care, and the educational staff members understand your and your preschooler's needs.
Check out our locations and find out which one suits you best.
That's why you choose KinderRijk
Inspired professionals

We are proud of our profession. The basis of the educational quality standards is laid by our education professionals. They enable children to explore carefree and to use their imagination. And they grow along with the children because of the continuous development.

Exploring and enriching your world

There is something new to discover together every day, there are small and big magical moments that spark fun. The children are given all the space they need to discover and explore. And getting dirty? No problem: also mud is a toy for us.

Rich play environment and range of activities

At KinderRijk, you can go on an adventure and experience things different from home. From playing in the nature garden, being creative in the workshop to toddler yoga. We have an inspiring play environment and a varied offering of activities, which give us the opportunity to

Room to make their own choices

We inspire children to learn actively, to make their own choices, to try out new things and to find their own solutions. Children therefore learn to know themselves and to appreciate themselves. This enhances their motivation, self-confidence and independence. Even the youngest children decide for themselves what they want on their bread and of course they spread it on by themselves.

Social and sustainable

We are a foundation and believe we have a social role. Our care is based on high-quality standards. Not on price, profit or quantity. We have a sustainable view of the world and the development of our children and staff. We believe it is our task to be sustainable where possible and to include the children in this vision. For now and in the future.
Everything you want to know
How much are the costs of preschool care?
Curious about preschool care costs? With our handy calculator tool, you can quickly calculate your monthly childcare expenses
How does the registration process work?
Learn more about how you can register with KinderRijk for childcare and what you can expect during the rest of your registration.
Preschool care & subsidies
In certain situations, it's possible to receive subsidies for toddler care. Discover what applies to you.
Preschool care: 40 weeks a year
The toddler care operates for 40 weeks per year, which corresponds to the school weeks. The toddler care is closed during school holidays
Get a Glimpse through the Parent App
Through our parent app, we share your child's experiences using daily reports, photos, and messages.
What is a children's campus?
A children's campus is an 'integrated child center' based on the belief that fostering development from zero to twelve years, through both education and care, offers more opportunities to nurture your child's talents comprehensively. This goes beyond collaboration and coordination: there is one vision, one approach, one team. At KinderRijk, we have 3 children's campus-locations.
Nutrition at day care
Healthy food is about much more than what is actually on the plate. It's also about education: getting children really interested in eating healthy food. This is why we always have a pleasant time eating and drinking together at the table.
Seeing someone eat, makes you want to eat too! In this way, we want to help develop healthy habits. Learn more about how we approach nutrition at KinderRijk.
Would you like to come and take a look?
On the location pages, you can take a virtual tour from the comfort of your home. For an in-person tour, we'd be delighted to invite you after you've received a placement offer from us.
Activities and rituals at day care
At Day care, preschool care, and after-school care, we have scheduled times for activities with your child. Children are not obligated to participate, but we do encourage your child to try new things. We challenge children to actively learn and find solutions on their own. This way, your child learns to understand and appreciate themselves, enhancing their motivation, self-confidence, and independence.
The pedagogical staff also occasionally take a stroll to a child-friendly destination near the location for children aged 0-4. By taking a 'stroll,' we expand the children's world. Examples of strolls include observing a construction project in the neighborhood or simply getting some fresh air. Taking strolls is part of our range of activities. We inform parents about this through the parent app.
Find a preschool near you