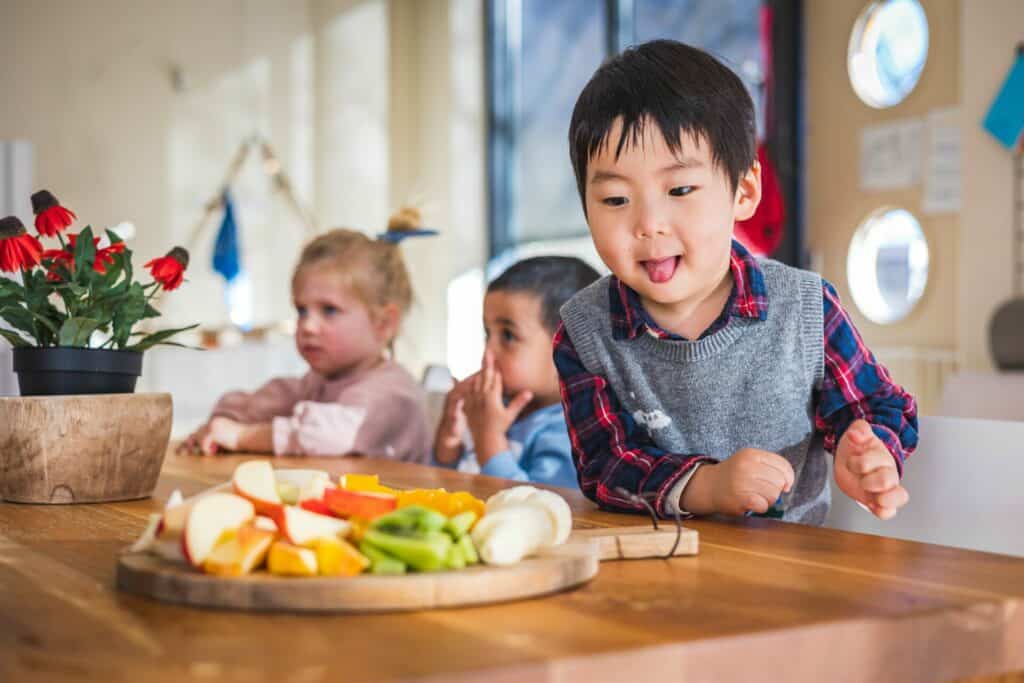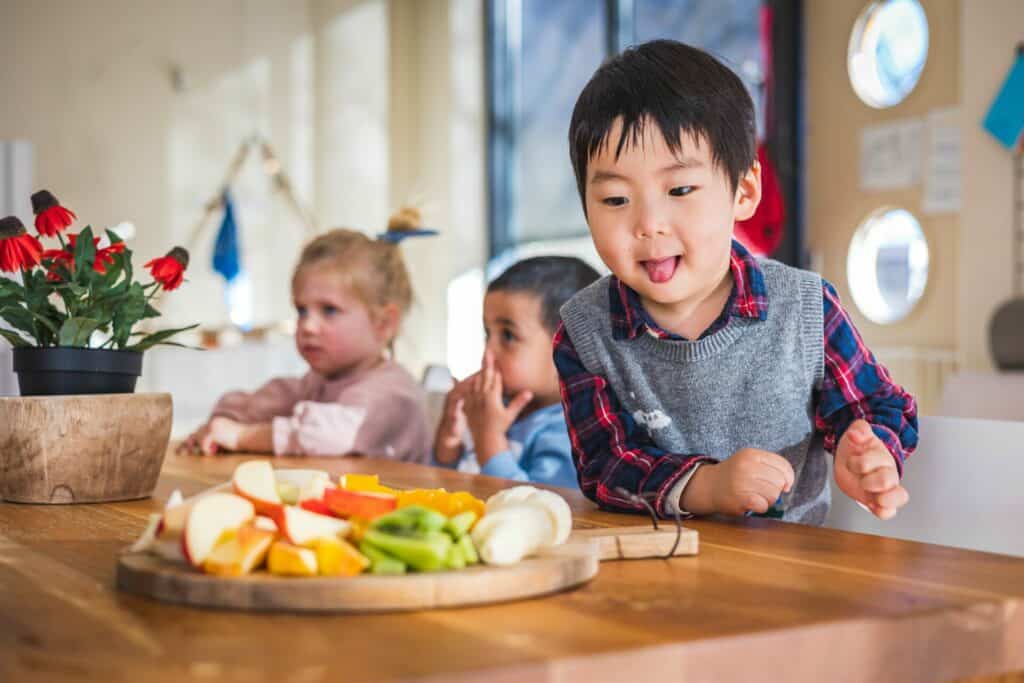 Healthy and vegetarian 
Healthy food is about much more than what is actually on the plate. It's also about education: getting children really interested in eating healthy food. This is why we always have a pleasant time eating and drinking together at the table. Mealtimes are social events where we encourage interaction with and among children in a sociable way. With the great advantage that, because they see others eating, children are more likely to try a bite too. Seeing someone eat, makes you want to eat too! In this way, we want to help develop healthy habits.
A vegetarian food offering
At KinderRijk, we use a nutrition policy for the meals. Our nutrition policy is based on the guidelines of the Voedingscentrum, with a varied supply of daily fruit and vegetables as main elements. The use of saturated fat, sugar and salt is limited.
We have opted for a vegetarian food offering. This is provided at the day-care locations in the form of a hot meal on three (alternating) days of the week. A cold lunch is provided on the other days. Water is the best thing to have for a drink. The point is that children will learn to drink water when they are thirsty. When they need energy, they will derive it from food. Though tea and dairy products are also on the table.
Sustainability is another important reason for our vegetarian offer. A diet with fewer animal products is beneficial for the environment.
Products within the food pyramid
At all locations, we offer products within the food pyramid. These include crispbread, yoghurt, muesli, wholemeal bread, cottage cheese, 100% peanut butter and various types of vegetables/raw vegetables. We also provide a few products that are not covered by the food pyramid (the so-called choices of the day) for the sandwich fillings, such as low-sugar jam, apple syrup and vegetarian cold cuts. Occasionally, for example at parties or (cooking) activities, products may be provided that are not entirely covered by the food pyramid. We try to keep this in line with our nutrition policy where possible.
Hot meals from Madaga
Vegetable tagine with orange and couscous, sweet potato stew with coconut, lentils and quinoa, mashed peas with apple, broccoli burger with carrots and mashed potatoes. You will find all this in the hot vegetarian meals prepared for our nurseries.
We use fresh and pure ingredients provided by Madaga. Madaga is an organisation with a mission to help children fall in love with authentic food, bit by bit. These meals are prepared fresh daily with seasonal ingredients. The contemporary dishes are based on the new guidelines of the Voedingscentrum, combined with children's needs. The dishes feature lots of vegetables and healthy wholemeal products. Sometimes even fruit, such as oranges or sultanas. Would you like to learn more about KinderRijk's nutrition policy or about the dishes that are on the menu? Ask your location!
Sustainable meals
Another important reason for our vegetarian offering, is sustainability. A diet with fewer animal products is beneficial for the environment.
Adapted food at the parents' request
Every child is different and also your child may have to follow a special diet or may have certain allergies. Special dietary arrangements can be considered in consultation with the location manager.
Register your child without any obligation